Antelope Rally
The Antelope MCC, its legendary rally and its greatest Ambassador!
In the world of motorcycle rallies there are many potential stories deserving of my efforts to put pen to paper so to speak; although it's impossible in the time I have left on this earth to be able share them all with you.
However, there is one that is perhaps closest to my heart that springs to mind and surprisingly, bearing in mind my previous tales, isn't about a famous rally, but rather, is my homage to an old timer British 'die-hard' rallyist and good friend.
I guess in a way it's a personal tribute that's long overdue and recalls a past friendship and the wonderful times we spent together at motorcycle rallies in England, France , or indeed across Europe.
His name... Rodney Taylor.
Rodney Taylor - The greatest ambassador the Antelope MCC ever had...
During the years he travelled the continental roads participating in a great many international meetings, including the most prestigious, 'invitation only' French gatherings reserved for the elite, Rodney magnificently represented, not only his club, but Great Britain itself.
For us French 'die-hard' rallyists, Rodney single-handedly represented Antelope MCC. He made the supreme effort to attend all of our most famous French rallies, never missing an important meeting. It was therefore only natural that we of course wanted to reciprocate and as such take part in his annual club rallies of the 1970s and 1980s.
...and a true British gentleman who magnificently represented his country abroad
My memory unfortunately fails me a little these days so I can no longer precisely remember what year and at which particular rally I first met Rod for, but I think it would be around the early to mid-1970s.
Rodney at the 1975 summer gathering of the Bouc Treffen
Searching through my archives, the oldest photographic rally record of Rodney I have dates back to July 1975. A photo taken at the Bouc Treffen, a summer invitation-only gathering organised by The Eighteen Club in Massay, near Vierzon, in central France.
To put my stories of Rodney in context, it seems sensible to explain a little of the background and past history of his club; the legendary Antelope Motor Cycle Club of Coventry.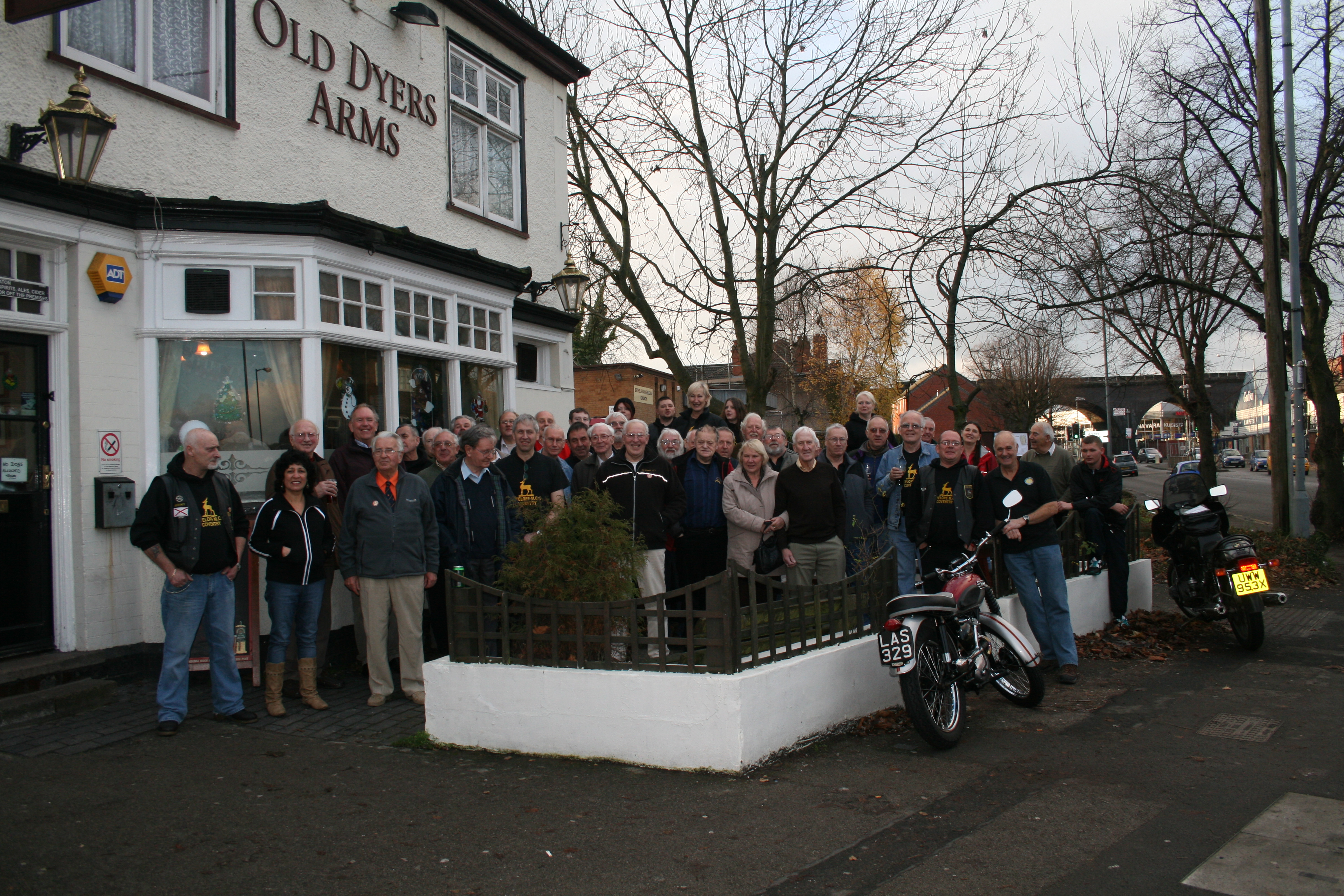 Early 1970s - The Francis-Barnett bar in the Antelope Clubhouse
A programme cover of April 9th, 1949 for a road race held at the Ansty aerodrome circuit and the club badge based on the Royal Warwickshire Regiment's badge and mascot
For rally enthusiasts, the Antelope MCC name is synonymous with their legendary rallies, held annually since the 1960s, and still today attracting bikers from all over the UK and continental Europe.
Antelope Rally badges through the years.
Rodney Taylor, the Antelope club's greatest 'Ambassador-at-Large'
Whatever the weather, whatever the season, even on the coldest days, you could count on the presence of Rodney Taylor at any French rally to which he'd been invited. The harshest weather conditions never put Rodney off and his desire to take part in a good meeting never faltered. The distance didn't matter. He willingly devoured miles of tarmac on his faithful BMW flat twin to join friends for a weekend and party hard together.
1977 Bois Renard Rally - Rod on his faithful flat twin
His good natured spirit and generosity often meant he shared his personal invitation to rallies with other fellow British rallyists and close friends. In this way, over the years we therefore got to know his circle of English riders and friends, some of whom already feature in stories on this site.
The anecdotes and memories from rallies concerning Rodney are too numerous to mention, however I would like to share with you some of those that are etched on my memory almost 50 years later.
These delicious gastropods
The legendary Christian 'Kiki' Blanchot was one of Rodney's French friends, so it was natural that Rod was invited, in the mid-1970s, to two invitation-only MC Dragons, (headquartered in the city of Clermont-Ferrand in Auvergne) events; (the winter Rallye Neiges and the summer Vercingetorix Rally).
In the 1970s Rodney Taylor was one of the very few Englishmen belonging to the prestigious 'Confrerie des Chevaliers Motocyclistes'. This was a kind of Masonic brotherhood, presided over by Kiki Blanchot, and comprising of around a hundred select 'brothers', all die-hard rallyists, mainly from France, but some from other countries too.
1976 Rallye Neiges - Rodney enjoying a game at the winter, invitation-only, meeting organised in Auvergne by Kiki Blanchot and the Dragons MC
Clermont-Ferrand in Auvergne was ideally located, geographically almost halfway between England and the July Italian summer rallies like the Stella Alpina and the Madonnina dei Centauri.
So when British friends travelled to Italy each summer to take part in these meetings, some took the opportunity to stop by Kiki's in Clermont-Ferrand, and spend the night there.
A bon vivant like Rodney appreciated the best things that France had to offer... good old wines from the best vineyards ...
Needless to say, the 'welcome aperitif' session between fellow rallyists, followed by a dinner at a local restaurant copiously washed down with French wine, undoubtedly proved a first-class warm-up to the party evenings in Italy.
...and delicious French cuisine
The abiding memory of one of those evenings, forever seared in my brain was that of a mate of Rodney's, much braver than all his friends at dinner, who finally allowed himself to be persuaded to try, among the dishes offered on the menu, the traditional dozen snails. Although prior to this feat he humorously drew up a brief will on a piece of paper in case the experience of consuming these delicious gastropods overwhelmed him...
A lovely gift from Rodney that is close to my heart
Rodney had a good heart and was close to his French friends as we were to him. I don't remember at what rally he gave me this lovely surprise, a pewter tankard, and almost 50 years later his gift still hangs in my office, prominent amongst a host of other memorabilia, collected during my rallying years, all of which I cherish.
This traditional pewter tankard made in Sheffield which I later had engraved with both my nickname and the name of my motorcycle club at the time.
This tankard has travelled to many countries, done the rounds at numerous motorcycle rally bar counters, and has held during my rally years a vast quantity of alcohol before finally accompanying me to my present home in South-East Asia.
And if my distance from the rallying scene has made me lose touch with my friend Rodney, I undoubtedly and wholeheartedly wish to toast our erstwhile friendship and to wish him good health from the bottom of my heart.
1978 Samara Rally - Rodney breaking camp
I Am With This Idiot
Another amusing memory dates back to 1978.
During this period, every 2 years, I organised an invitation-only rally called the 'Alambic Rally' (whose history I hope to be able to tell you one of these days). Rodney could not attend the first meeting in 1976 but he was there with a small group of his countrymen for this second gathering in the Bourbonnais countryside.
At the very beginning of the afternoon, 'Marco de Toul', an unusual character from eastern France, had arrived at the rally as naked as the day he was born on his Sportster Harley, although he had actually only disrobed for the last mile or so to the great amusement of the spectators.
His exhibition proved enormously entertaining and was met with much laughter and not a few smirks from the crowd. However there was one exception, a local resident near the rally site, apparently rather humorless, and for whom nudity on a moving motorcycle passing in front of his house was a definite 'no-no'.
1978 Alambic Rally - Marco de Toul and a good looking female rallyist enjoying a beautiful summer day in the Bourbonnais countryside
This rather dour individual telephoned the local gendarmerie who quickly sent two gendarmes to investigate. These two lone policemen must have felt very isolated in the middle of a crowd of rallyists and who had no particular liking for the police.
Rodney and his English friends took advantage of this unexpected opportunity to take a series of very funny photos.
1978 Alambic Rally - Yours truly (center) escorted by two gendarmes, who came to investigate the incident with the rally organiser.
One of Rodney's friends luckily wore a T-shirt with the logo 'I Am With This Idiot' on it and an arrow on the chest pointing at the person next to him. One of the two gendarmes probably did not understand English since he readily agreed to pose alongside the English biker for some souvenir photos. Rodney later showed me these unforgettable photos that I wish I had in my collection today.
'Alouette, Gentille Alouette'
If I think of the song 'My Way', Frank Sinatra springs to mind.
For the French children's song 'Alouette, gentille alouette', (yes, you know the one), my immediate memory is that of Rodney Taylor at the end of an evening, perhaps a little merry, singing this traditional song at the top of his voice, whilst at the same time mimicking how he was going to pluck that poor lark alive.
Je te plumerai la tete ... et le bec ...
Antelope Rally 1978
To conclude this humble tribute to my old friend, I must thank him for his warm hospitality when we travelled to England and stayed at his home in Rugby.
I would also like to thank him for all his good advice concerning which British rally meets to attend. Thanks to his recommendations, I have had the privilege of taking part alongside him in rallies in which I would not have otherwise been privileged to attend.
I am thinking in particular of the Anker Rally 1978 at Atherstone, the Tamar Rally 1979 at Stoke Clamsfield, and the Old Timer Rally 1982 at Sixpenny Handley.
From these four Long Distance Awards I won at British rallies, three of them (Antelope 1978, Tamar 1979 and Old Timer 1982, were down to Rodney's recommendations.
So thank you Rodney Taylor, for your friendship, for your generosity of spirit, for all the great moments spent together and above all for the lasting memories I treasure to this day.
- Jean-Francois Helias
Addendum
A friend recently sent me this photo and although it wasn't the one Rodney Taylor had shown me previously, we are getting a little closer. We now know the name of the British prankster who ridiculed the French gendarmerie at the Alambic Rally 1978: the bearded Michael Cooper.
Alambic Rally 78: Rodney Taylor, Michael Cooper and Stanley Bailly (Dragons Paveck MC)
I can also update you about our friend Rod after spending more than an hour on the phone with Thierry Garnier.
Thierry and I had not been in touch since the 80s. We therefore had much lost time to make up for, promising to talk again soon. His memory is astounding, so much so, that among many other things, he recalled in amazing detail the meeting we had with Rodney at the 'Madonnina dei Centauri' Rally in Italy in 1974. Even more amazing was that now, some 46 years later, he remembered the model of my bike at the time. I was impressed!
Thierry, originally from the Paris region, was a die-hard rallyist at International level in the 1970s and 80s. Of all the French bikers I know he is undoubtedly the one who spent the most time in Britain and attending many, many rallies.
With help from my old mate Gilles Gaudechoux I was finally able to get his email and telephone contact. If there was likely to be one person who knew how Rodney was doing these days, it was probably him. Thierry Garnier has been Rodney Taylor's close friend for almost 50 years and is in regular contact with him.
Rallye Neiges 1975 - Rodney Taylor and John Spensley from Tavistock. Rod later gave this Triumph outfit to Steve Cawthorne. The Honda 500 Dunstall belongs to Thierry Garnier who took this photo.
Thierry told me over the phone that he often visited Rodney. He would get to Rugby on his current motorcycle, (Honda Goldwing 1800), then rent an SUV on site to transport Rodney who these days is sadly confined to a wheelchair.
Rod stays at a care home. Thierry would pick him up around 10am and would take him wherever he wanted to go. In the evening, they would end the day with a good meal courtesy of Thierry, in one of the best restaurants in town, all washed down with good wine which Rod still loves.
Despite some age-related health problems Rod is still with us and celebrated his 81st birthday last June.
I love living. I love that I'm alive to love my age. There are many people who went to bed just as I did yesterday and didn't wake this morning. I love and feel very blessed that I did.
- Maya Angelou
---
Sadly Rodney passed away in October 2020.